The Celtic Museum
Our Goal ...
The primary long-term goal of the Celtic Learning Project is to establish a living history museum. This museum will be an informed re-creation of the architecture of and quotidian happenings at an Iron Age Celtic settlement. Our intent is to give visitors a sense of "walking into the past" as they enter the museum. They will experience how the Celts worked, fought, and were entertained. Visitors will enjoy both passive and active learning options: listening to trained, costumed interpreters tell stories and explain the ancient Celtic lifestyle, and participating in interactive programs that will place them in the role of ancient visitors to the settlement. Included among these hands-on activities will be craft-building, feast-making, and agricultural and pastoral work.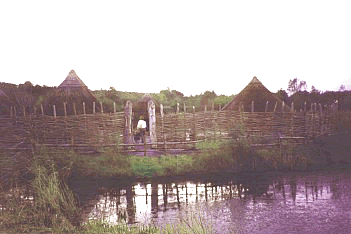 Where we plan to build ...
We tentatively plan to build the museum in Connecticut in the United States. Connecticut is a state with a relatively high population density and is located on the East Coast travel corridor. These factors will allow a great many people to visit the museum.
The New England region already boasts a number of highly-frequented living history museums, and Connecticut has enough available land to allow for a sizable re-created community in a rural setting. A reconstruction of an Iron Age hillfort surrounded by pasture, tilled fields, and support facilities could be established on thirty to sixty acres of land. The terrain in Connecticut is hilly but generally not mountainous, and therefore well-suited for construction of a replicated hillfort. Many members of the Celtic Learning Project live in Connecticut, giving further incentive for construction in that state.