Celtic Story Telling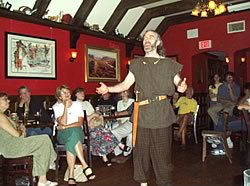 Through storytelling programs the Celtic Learning Project brings the ancient tales of the Celts to life. Always exciting and fun, these programs maintain Celtic oral tradition by bringing entertainment and culture to modern audiences. The ancient Celts were a pre-literate people: they did not keep written records, write books or leave notes on events or their beliefs. As such, storytellers and others gifted with the spoken word were vital to society. They memorized the stories of their ancestors and created new ones for the deeds of the day.
C.J. May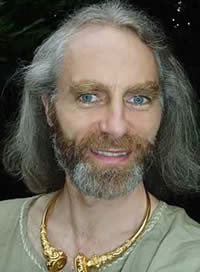 C.J. May has been telling stories for decades. Only recently has he discovered that adult audiences enjoy a good oral rendition of an epic as much as do children. In their original form many of the great Celtic tales are only suitable for adults. When telling such stories to younger audiences, C.J. omits inappropriate violence and off-color topics. When telling stories for adult audiences, however, he keeps them in their more original form.
Schedule a Celtic Story Telling Event
For more information on Celtic storytelling, e-mail cyril.may@yale.edu

Stories for Children
Children's programs typically run 30-60 minutes and include a number of shorter stories. For an hour-long program we incorporate coloring, projects and other activities to suit children's attention spans.
Stories For Adults
Our "Blood & Glory"; stories are intended for adults and are best delivered in a casual communal environment such as a meeting hall or pub. These stories are not edited for children and as such include all the bed, battle and betrayal of those tales told around cook fires more than a thousand years ago. Programs typically run one hour.
The Cattle Raid of Coolnya

The most famous Irish epic of Cuchulainn and his single-handed defense of Ulster from an army of invaders. This action-packed story of bravery in the face of treachery includes audience participation at key points of the story.

Feast Of The Dead

This collection of stories is best told near Halloween since each of them occurs at the Celtic Feast of Samhain, the original Halloween. Leave the kids at home with a babysitter. You would not want them to see you get this scared.

Love & Death in Ancient Ireland

Ideal for that time between St. Valentine's Day and St. Patrick's Day, these tales of wooing and the warfare normally associated with it are a mix of the romantic and the adventurous.

Tales of a Celtic Warrior

Unlike all of the other Blood & Glory programs, this is not a re-telling of an ancient Celtic story. Using the best material available from Celtic scholars, archeologists and historians, C.J. tells a fictional yet accurate tale of honor and revenge. Filled with the detail and danger of Iron Age life, this story will keep you on the edge of your seat while teaching you about this exciting time in history.